Where a flat tire occurs, drivers are advised to slow gradually and pull off the road, Continuing to drive may damage the wheel, the hub or other parts of the vehicle. Driving with a flat tire, especially at high speeds, may result in a loss of control and an accident. Some motorists, especially those with less physical strength, may risk injury while attempting to change a tire. Often, lug nuts are bolted very tightly to the wheel, and tires themselves are quite heavy. Just ring us for the flat tyre replacement we will take care of that for you.
Tyre change midst of your routine drive never turns hectic now!!
Call us anytime for emergency tire change anywhere across Dubai, Sharjah and Abu Dhabi.
Onsite provides on-call roadside assistance for tyre change Dubai, Sharjah, and Abu Dhabi. Flat tyres increase the risk of accidents and threaten the lives of people on the road. It is always advised to go for a tyre change if you experience flat tyres in mid of the journey. No matter where you are, we have the most skilled team near you.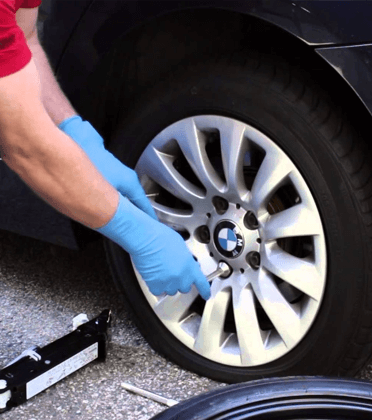 With a wide fleet of technical vans with professional auto technicians, Onsite is available across all major vicinities of UAE. Our highly skilled technicians and a wide range of branded tyre collections matching all types of vehicles give the client a relief during unexpected chaos or troubles anywhere anytime.
We provide original tyres of various brands with warranties at a highly competitive price. With our services of tyre replacement Abu Dhabi, Dubai and Sharjah; we ensure the finest service, that could grant you confidence and experience to drive well further.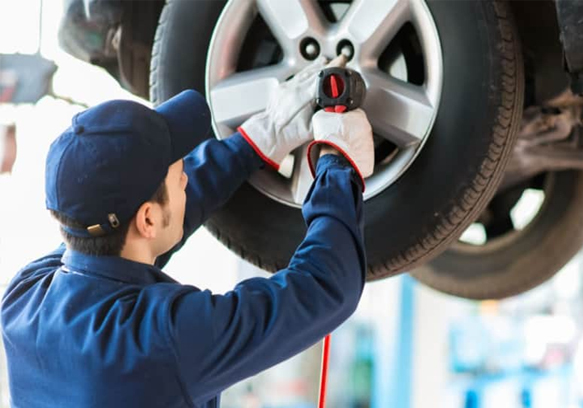 Didn't notice on your flat tyre before you start?
No worries- Get Onsite and we reach you in a blink of time.
We advise you to pull the car out of the road and stay calm. In short, our technical van will spot your vehicle and reach a maximum of 30 minutes. As you relax on, we deliver the spectacular service on tyre change. We reach easily to any roads for tyre change in Abu Dhabi, Sharjah, and Dubai.
Onsite is the fastest, reliable, and affordable emergency tire change service all over the UAE. Assistance to change with a spare tyre or with a new one is readily available at your location just over a ring. We extend greater support with professional tyre replacement services in Dubai and other emirates.
What to do if you need assistance on Tyre replacement?
Looking for help to tyre change on roads of UAE?
Ring for Onsite Tyre change service and follow us!
Find a Safe Location and get your vehicle off-road or as safe as you can
Turn on Your Hazard Lights, apply the parking brake, and wait for us.
In a short time, the nearest technical van of our fleet will spot you and cover for assistance.
Skilled auto technicians will inspect the tyres and provide with instructions.
If Tyre change is mandatory, we extend our tyre replacement service safely in a quick time.
Onsite always, advise all drivers on road to never attempt a tyre change unless you are professionally or highly skilled to do so. A faulty tyre replacement not only causes your life but the safety of others on the road too. Hence always adopt a skilled one's assistance to deal with a flat tyre or any sort of tyre change.
Onsite offers tyre replacement Dubai, Abu Dhabi, and Sharjah for all types of light and commercial vehicles. We reach on any location in the fastest time and provide compatible tyre change service with tyres of all major brands and deliver warranties to assure you the performance.
How often should I replace my tires?
It is recommended to replace your tires every 5 years regardless of mileage, or when the tread depth reaches 2/32 of an inch.
How do I know when it's time to replace my tires?
Check the tread depth of your tires regularly. If the tread depth is less than 2/32 of an inch, or if you notice any cracks, bulges, or other signs of damage, it is time to replace your tires.
Do I need to replace all four tires at once?
It is generally recommended to replace all four tires at once to maintain the best performance and safety of your vehicle. However, if the other tires are still in good condition, you can replace just one or two tires as needed.
How long does it take to replace tires?
The process of replacing tires usually takes about 30 minutes to an hour, depending on the complexity of the job and the number of tires being replaced.
How much does it cost to replace tires?
The cost of replacing tires depends on the type and size of the tires, as well as the brand and quality.
Can I use different brands or types of tires on my vehicle?
It is generally not recommended to mix different brands or types of tires on your vehicle. It is best to replace all four tires with the same brand and type to maintain the best performance and safety of your vehicle.