Car Battery Replacement Dubai, in Most of car batteries are used to start the motor. After that the motor operates a generator to charge the battery. Most are lead acid batteries, although some electric cars can have other batteries. Car batteries can be replaced when flat. Car batteries should be changed with almost care, don't worry, ring us, our experienced technician will bring you the correct battery size and will install for you at your location.
Stranded with car battery failure??
Give us a call, Relax and we are here!!
No matter where you got stranded, on-road, home, office, or anywhere. Amid the non-response from your car battery, Onsite is always reachable- No way to halt, when Onsite Battery comes to you!!
Get 100% genuine and guaranteed car battery replacement at the best of industrial rate. onsite car battery replacement Dubai, Sharjah, and Abu Dhabi is known for 24×7 car battery help, support & replacement at your doorstep. With quick customer support, we reach on the client's location in minimal time and offer spectacular services.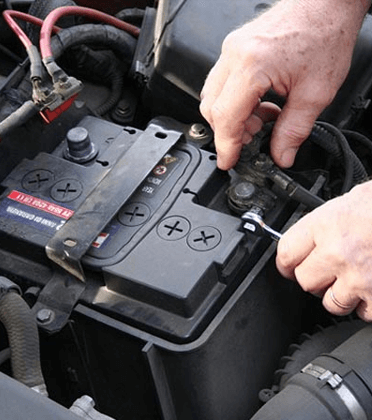 Battery Replacement Dubai – Stuck in between the journey??
Dial Us!!
With a wide fleet of technical vans with professional auto technicians, Onsite is available across all major vicinities of UAE. Our highly skilled technicians and a wide range of branded battery collections matching all types of vehicles give the client relief during unexpected chaos.
We provide original batteries of any brands with warranties at a highly competitive price. With every battery replacement at your location, onsite car battery replacement ensures the finest service, that could grant you confidence and experience to drive well further.
Car Battery Replacement at your Place– Know more
An efficient battery is a vital component to make a vehicle operating flawlessly. Unexpected battery system failures or careless vehicle handling may cause the drain or death of the car battery. Facing a stuck in between the drive or in any place where you are uncomfortable is one of the greatest dilemmas, a driver could experience.  A dead battery indication will cause many interruptions on the schedules as well as the emotion of the passengers.
With a car battery replacement Sharjah, Dubai, and Abu Dhabi, onsite brings you the privilege of getting every type of battery replacement and installations. Cars, SUVs, Light Trucks, or any type of vehicle batteries are available with us at the best rate of the market. With professional technicians, we bring back your car to super performance in no time.
Onsite is popular in delivering roadside and on-site assistance for vehicles with battery issues. As soon as we get an inquiry or quote for car battery replacement Abu Dhabi, Sharjah, or Dubai we assure you the best in no time.
The inquiry will get passed to our team of professional technicians available near your location
We spot your vehicles in a maximum of 30 minutes and our vehicle reaches you
Skilled technicians perform computerized battery tests and diagnose the problem
Advises on the immediate actions to be covered or followed
In case of battery boosting or other repairs, technicians perform the same
Replacement demands get fulfilled same time, if necessary
Performs Battery and electrical system checkups
Provide the client with post-replacement care and warranties on the product
Onsite assures the best quality car battery replacement service Dubai, Sharjah, and Abu Dhabi. With a fully-fledged technical vehicle with expert technicians, we are available in all major vicinities of the UAE to provide comprehensive Car Battery Replacements with warranties.
How long does it take to replace a car battery?
The process of replacing a car battery usually takes about 30 minutes to an hour, depending on the complexity of the job and the location of the battery.
Can I replace my car battery myself?
It is possible to replace your car battery yourself if you have the necessary tools and experience. However, it is generally recommended to have a professional do the job to ensure the best results and avoid any safety risks.
How do I know when my car battery needs to be replaced?
Signs that your car battery may need to be replaced include a slow engine crank, dimming headlights etc.